RV Service with Northgate RV Center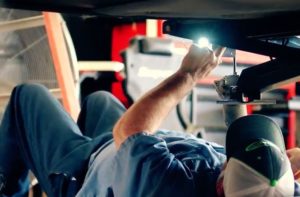 Our 11-bay service department and knowledgeable service staff are dedicated to helping you keep your RV in great condition. We have 10 factory trained and certified service technicians who can handle all your RV needs. Whether you are in need of major or minor repairs, we can do it all. From paint and body work to preventative maintenance and repairs, our job is to get your RV back on the road quickly and efficiently. We also do parts and accessories installations, so check out our fully-stocked parts store next time you stop by.
Did you know that Northgate RV Center offers Rhino Linings protective coating? Ask for more information and schedule your appointment by filling out our form provided!
Appointments are required, so please call ahead or fill out the form provided to request your appointment today! Once you've submitted the form, we get in touch with you to schedule the appointment. You can enter your requested day and we will do our best to work with your schedule.
Maintenance & Service Repair Specialists
Several decades of experience in repair combined with latest computer diagnostic equipment ensure quick and accurate evaluation. We pride ourselves in excellent shop and office organization as well as detailed and itemized estimates and invoices to keep our customers informed of all details and every single step of the repair process. We'll get your RV in top shape so you can get out on the road sooner.
Experienced technicians handle annual services and tune ups to complete complex engine rebuilds and everything in between. We respect our customer valuables and take care of your RV in a clean and safe environment.
Whether you've bought your RV with us here at Northgate RV Center II or you're looking to have some service work done you can count on high quality personal service. If you've had the privilege of purchasing from us or are contemplating a purchase you can count on being taken care of not just at the time of sale but for many years after the sale.
RV Service & Repair List
Air Conditioning
Generators
Televisions
Digital Converter
Safes
Cabinetry
Ladders
Window Tinting
Fireplaces
Chassis Service
Plumbing
Audio / Video
Horse Trailers
Cargo Trays
Locks
Freezers
Sway Bars
Custom Cabinetry
Roof Seals
Brakes
Inverters
Windows
Fire Repairs
Stereos
Oil Change
Supplemental
Appliances
Hitches
Tongue Jacks
Dry Rot Repair
Slide Outs
Canopies
Lighting
Central Vacuums
Braking Systems
Countertops
Roof Repairs
Solar Panels
Batteries
Ice Makers
Trailer Brakes
Fabrication
Steps
Flooring
Air Suspension
Heating
Tile
Boxes
Shock Absorbers
DVD Players
Campers
Leveling Systems
Wipers
Macetors
Complete Remodels
Propane
Awnings
Hydronic Heat
Tow Bars
Electrical
Spot Lights
Carpet
Northgate RV Center - Alcoa

3332 Wrights Ferry Rd
Alcoa, TN 37777

Hours

Mon - Fri: 9am to 5:30pm
Saturday: 9am to 5pm
Sunday: Closed
Northgate RV Center - Ringgold

442 Candy Lane
Ringgold, GA 30736

Hours

Mon - Fri: 9am to 5:30pm
Saturday: 9am to 5pm
Sunday: Closed