About Northgate RV Center
---
OUR HISTORY IN THE MAKING
1994
NORTHGATE RV OPENS FIRST STORE IN CHATTANOOGA, TN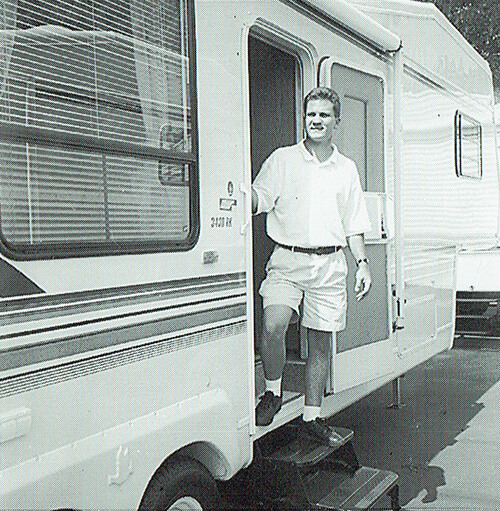 A humble, and to some degree "movie like", beginning was the foundation in 1994 between Billy Yates and Ben O'Daniel. Billy, an RV Parts Distribution Representative at the time, and Ben, a very successful entrepreneur and owner of Northgate Parts, were having a discussion regarding some land in a great location when Billy said "if I had the money I'd build an RV Dealership right here" to which Ben turned to him and replied "I've got the money if you've got the time." It was in that moment Northgate RV had gone from an idea to an opportunity. Within a years time Billy had taken a chance to build something of his own and for his family, and turned it into a successful first step with the great achievement of being named "Rookie of the Year" by Jayco Inc. This was no plateau though for Billy, but a strong beginning for what would become the largest fifth wheel dealer in the state of Georgia.
2002
NORTHGATE RV OPENS SECOND LOCATION IN ALCOA, TN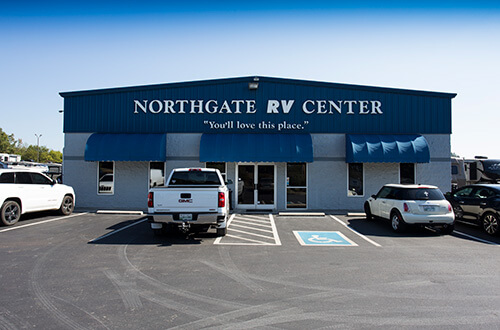 After 8 years of continued growth, through Billy's consistent approach of fair prices and a wonderful customer experience, an opportunity again presented itself, this time in the form of expanding the business. Billy and his wife Sonya, a fundamental key to Northgate's success, are from Alcoa Tennessee, so when it came time to open another location the Knoxville market only made sense. They enlisted the help and work of close family members as well as Jeremy Davidson, long time employee of Northgate RV. Jeremy, who's mother brought him to Billy at a young age for work, had started out detailing campers and worked alongside Billy to learn and ascend to the General Manager of the Alcoa TN location. Jeremy helped cement Northgate RV in the community before a tragic accident took his life and left Billy in search of new leadership in Alcoa as he also grieved the loss of what was like a son to him. It was then that Billy turned to his oldest daughter, Kaitlyn Yates, who was in college at the time, to pack up and run the Alcoa location. She has grown sales year over year and become an important part of Northgate's success.
2005
NORTHGATE RV OF CHATTANOOGA RELOCATES TO RINGGOLD, GA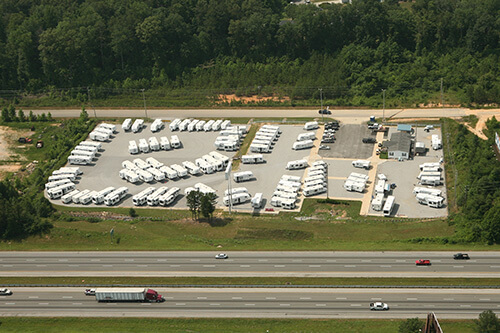 It didn't take long for Northgate of Chattanooga to catch fire, but as the business grew one specific customer saw more for the store. Alma Fountain was a wonderful RV'er that appreciated the approach of Billy and Northgate RV Center and wanted to see it grow, knowing location would be its best asset. Having seen a piece of property near the interstate, she asked Billy if he was interested in moving the Chattanooga store and was persistent in her pursuit. After a few months Billy agreed to go see the property; though he didn't agree with the exact location not far down the road did he pass what would now be called home. The location was a vacant mobile home lot and with his partner, Ben, having experience in that industry Billy asked him to look into the property. It wasn't long before Northgate RV Center moved from Chattanooga to Ringgold, located immediately off I-75.
2016
NORTHGATE RV HAS GRAND OPENING FOR RINGGOLD SUPERCENTER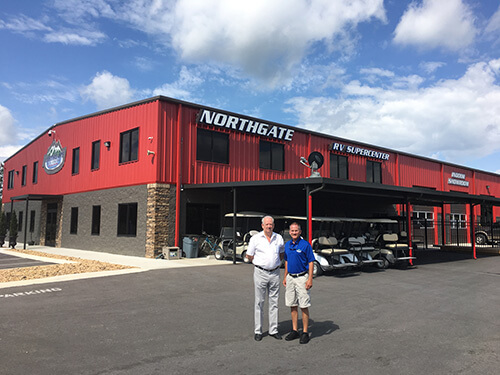 It was 22 years in the making, but Northgate RV Center was blessed to have such consistent growth that a Super Center was necessary. After adding some acreage to the Ringgold property, Billy and Ben, with the help and support of Sonya, Kaitlyn and Lindsey Yates, built a massive RV Super Store to better assist and provide to the ever-growing consumer base that Northgate RV had nourished. Over the course of a couple decades, Northgate RV had grown every year with the soul of their business coming from word-of-mouth, a feat uncommonly succeeded in most businesses now and then. Currently outgrowing the new Super Center, Northgate RV looks to continue its "Family First" method and encourages all those who appreciate a family, fair and easy approach to visit it's two locations in Ringgold, GA and Alcoa, TN.